PRESS RELEASE
Winners of WeddingsOnline 2015 Awards revealed –Love Shack Wedding Entertainment wins!
Love Shack Wedding Entertainment are delighted to announce that we won the 'Wedding Entertainers of the Year 2015' category at the weddingsonline Awards 2015.
The weddingsonline Awards 2015 winners were announced on Monday February 16th in the Royal Marine Hotel, at a glamorous black tie ceremony co-hosted by broadcaster and bride-to-be, Lisa Cannon. Hundreds of guests representing the country's finest wedding businesses and services gathered at the stylish event to celebrate the winners of Ireland's most prestigious annual wedding awards.
Over 32,000 brides and grooms nationwide voted for their top suppliers and venues in a range of categories, who were then judged by a panel of digital marketing gurus and expert industry specialists. Judges this year were Joan Mulvihill, CEO of the Irish Internet Association, Gareth Dunlop; CEO at Fathom, a user experience consultancy, Mark Richardson, Ireland's leading sales and communication skills expert and founder of www.IrishMysteryShopping.com, Krishna De, CEO of BizGrowthMedia and Ken Fitzpatrick, CEO of the Digital Marketing Institute.
The 36 categories in the weddingsonline Awards 2015 cover every possible service offered to brides and grooms around the country, from bands and stationery, to venues and photographers.
The annual weddingsonline Awards have become the industry standard, crucial in rewarding the professionalism, achievements and outstanding service given by the Irish wedding industry… ..I know that all involved, both nominees and winners alike, are honoured and pleased that their dedication and hard work has been acknowledged by brides and grooms all over the country, and so they should be.
Peter Bryans, MD of Weddingsonline.
"We would like to thank all the people who voted for us and all the judging panel at Weddings Online for this great achievement!We are thrilled to be recognised in this way by the very many brides and grooms who took time to vote in the weddingsonline Awards 2015.
Corina Carrick, of LOVE SHACK Entertainment.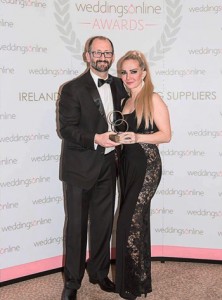 ---
Rory from Weddings Online and Corina from Love Shack Wedding Entertainment.