[su_row]

[/su_row] [su_row]

[/su_row] [su_divider top="no" size="2″ margin="5″]
Love Shack Wedding & Party Music and Entertainment
[su_row]
[su_column size="1/2″]
Love Shack Wedding Entertainment
[su_divider top="no" size="2″ margin="5″]
Love Shack provide all your Wedding day entertainment needs. Wedding Bands, Singing Waiters, Pre-dinner musicians and singers and Church/ Ceremony Wedding Singers – find them all at The Love Shack. So, for the best wedding day entertainment contact Love Shack today and let us add the perfect soundtrack to your Wedding Day!
[/su_column] [su_column size="1/2″]
Winners of Weddings Online 'Wedding Entertainers of the Year 2015'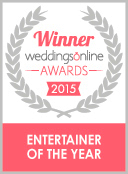 Love Shack Wedding Entertainment are thrilled to announce our recent win at the Weddings Online Awards 2015. Love Shack picked up the awards for 'Wedding Entertainers of the Year 2015 and from all of us here we wish to thank all the people who voted for us and all the judging panel at Weddings Online for this great achievement!
The 36 categories in the WeddingsOnline Awards 2015 cover every possible service offered to brides and grooms around the country, from bands and stationery, to venues and photographers.
Over 32,000 brides and grooms nationwide voted for their top suppliers and venues in a range of categories, who were then judged by a panel of digital marketing gurus and expert industry specialists. Judges this year were Joan Mulvihill, CEO of the Irish Internet Association, Gareth Dunlop; CEO at Fathom, a user experience consultancy, Mark Richardson, Ireland's leading sales and communication skills expert and founder of www.IrishMysteryShopping.com, Krishna De, CEO of BizGrowthMedia and Ken Fitzpatrick, CEO of the Digital Marketing Institute. [su_button url=" http://love-shack.ie/wedding-entert…-the-year-2015/" background="#ef08db" color="#ffffff" size="3″ icon="icon: trophy" icon_color="#ffffff"]Read more…[/su_button] [/su_column][/su_row] [su_divider top="no" size="2″ margin="5″]
Welcome to Love Shack Wedding Entertainment
Thank you for visiting Ireland's leading one-stop-shop for  wedding music and entertainment. Please look through our website and view the video clips and listen to the sample tracks of the fantastic musicians and performers we have. Love-Shack Entertainment offer a huge range of options for your special day and we are constantly increasing the styles and types of acts we have to offer to help you create the perfect soundtrack to make your wedding the perfect day!
When organising your wedding day you will have so many different individuals to deal with from the venue representatives, florists, stationary providers to name but a few. So, rather than having to deal with separate individuals for your church/ceremony singers, pre-reception entertainment, wedding band and DJ – and have the worry about getting each there on time, book through Love Shack and deal with one person for all your entertainment needs and receive the benefits of discounts when booking multiple acts for your wedding!
[su_divider top="no" size="2″ margin="5″] [su_row][su_column size="1/4″] [/su_column] [su_column size="1/4″] [/su_column] [su_column size="1/4″] [/su_column][su_column size="1/4″] [/su_column][/su_row] [su_row][su_column size="1/2″] [su_accordion][su_spoiler title="What We Do.." open="yes" style="fancy"]We offer a one-stop -shop, so that you only have to deal with one person for all your wedding entertainment needs. When you book a few acts for the same day with us we can offer great discounts that you couldn't get if you were dealing with different people for your wedding day music.  All our musicians, performers and singers are highly experienced and highly trained professionals who are also fantastic entertainers. You choose what acts you appeal to from our fantastic selection and we will create that perfect soundtrack for your perfect day![/su_spoiler] [su_spoiler title="Where We Do It.." style="fancy"]We cover the entire island of Ireland and regularly travel to all counties – and if you wish to bring us, we will happily go abroad too! ;)[/su_spoiler] [su_spoiler title="How We Do It.." style="fancy"]Once you have selected the acts and singers that you love we check to ensure that they are available on your date and then a small deposit secures your booking (with the act you have selected) and the balance to be paid on the day of your wedding. We will arrive with all our own top quality equipment and set up and be ready well before the time required.[/su_spoiler][/su_accordion] [su_divider top="no" size="2″ margin="5″]
What we offer
[su_list icon="icon: heart" icon_color="#ffffff"]
Church / Ceremony Singers
Pre-Reception Music
Singing Waiter
Wedding Band (and DJ if required)
A huge range of options and packages can be tailored to suit your needs!
[/su_list]
A taster of our sample tracks…

(visit the pages for more!)

Track – Somewhere Only We Know – Carla ( Church / Ceremony Singer )
---
Track – At Last – Corina ( Church / Ceremony Singer )
---
---
Track – Walking on Sunshine – The Love Shack Dolls ( The Love-Shack Dolls )
---
Track 2 – Marry You – The Love Shack Dolls ( The Love-Shack Dolls )
[/su_column] [su_column size="1/2″]
[su_button url="http://love-shack.ie/contact-us/" background="#000000″ color="#ffffff" size="5″ icon="icon: envelope-o" icon_color="#000000″]Click here to contact Love Shack today and book all your perfect wedding day music in one place![/su_button] [su_carousel source="media: 411,412,410,415,414,413,417,409,416″ limit="9″ width="500″ height="500″ items="1″ title="no" speed="700″] [/su_column][/su_row]